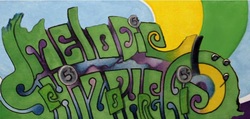 OCS Entertainment, LLC presents A Nickel Bag of Funk

Based out of Savannah, GA this hard working band is funk infused with mixes of R&B, Hip Hop, Rock and Soul. It is truly an eclectic musical experience that gets the crowd going and makes the audience demand more. What is consistent about this band throughout the years is its musicianship. It does not matter if it is a three piece or ten piece setup this band always out performs.

Lead vocalists and creator, Leslie Adele is a powerhouse. She presents powerful vocals and emotional performances, every word is emphasized and every note is hit. What is wonderful about this lead singer is that it does not matter if it is a cover song or one of her original tracks; you are going to get the best out of Leslie no matter what! With Adele at the helm, this funk outfit is poised for national attention.

The conception of Leslie Adele and A Nickel Bag of Funk happened on a wing and a dare on July 4th, 2005. Leslie who was a waitress at the time at the North Beach Grill on Tybee Island, GA was dared to go on stage and sing. Never being one to back down Leslie jumped up and belted out "Superstitious" by Stevie Wonder, she finished that night with double tips and motivation to start a band.

The immediate future for A Nickel Bag of Funk and Leslie is to keep touring and performing, having performed over 300 performances in the past year. This is truly the busiest little band in the South East. With the release of their first full length album Melodic Schizophrenic, they have a solid collection of original music that reflects the band's musical voice as well as array of talent. What started out as the shear unwillingness of Adele to pick a genre to stay in, has turned into the audible ethos of these Savannah natives. Awe inspiring and aggressive drum grooves combined with Adele's raw powerhouse vocals and LaBelle-esque stage presence has set the much anticipated scene for this first offering of original material.

Features and Mentions
A Nickel Bag of Funk has been voted Savannah's Best R&B/Funk Band for 2007-2016 winners by the Connect Savannah Reader's Poll. Breaking the streak only in 2009 for Leslie to take family leave. They are the Southeast's go to opener for national and international acts. Sharing the stage with the likes of Fitz and The Tantrums, Rsacal Flatts, Phillip Phillips, the S.O.S. Band, B.O.B., Trombone Shorty & Orleans Avenue, Tank, Slick Rick, Dru Hill, Avant, Marsha Ambrosius and many more.
---
LESLIE ADELE ENDORSES SOULTONE CYMBALS

MY SOULTONE SETUP
21" Ride Gospel Series
16" Crash FXO Series
14" Crash Gospel Series
14" Hats Custom Brilliant Series
14" China Custom Brilliant Series
9" Splash Gospel Series